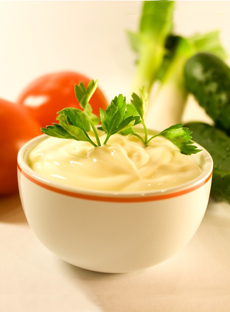 Why would anyone want to make their own mayonnaise? Blame it on the movie Julie and Julia, which led me to the memoir My Life in France, which, among other things, got me interested in mayonnaise. Interestingly enough, this everyday shelf item that we toss ungraciously in potato salads and smother on our sandwiches without a thought was once a fancy sauce.
One thing about making mayo is that you get to see, first hand, science at work in the kitchen, something we often take for granted. The kids, for example, are positively gleeful as they watch the oil magically transform, or emulsify, before their very eyes. Whereas they would never dream of eating a slice of bread with just plain store bought mayo, neither of them can wait to smear our homemade version on toast.
Part of this is the natural inclination to appreciate what you make (hence the reason we all love our own littler terrors, called children), the other part is that homemade mayo just tastes better. Maybe it's the lemon tang or the sea salt or the light olive oil I use instead of vegetable oil. I don't know why it tastes so much better, but believe me, it does.
The other thing about making mayo is that it's a great way to get out all that pent up aggression. It requires a lot of beating. Just picture someone or something that gets your knickers in a twist (politicians, husbands, slow checkout clerks, taxes), grab that whisk, and let 'um have it! Who needs a punching bag when you can make mayo?
                 I like to make it with this special Meyer Lemon Olive Oil that I order from Leonardo e Roberto's Gourmet Blends. It brings the mayo a rich lemony taste that is also slightly sweet. It's perfect for chicken salad sandwiches or serving with asparagus or artichokes. It's also a great salad dressing base. I like to add balsamic vinegar, a little garlic, and buttermilk, plus some salt and pepper to create a creamy balsamic dressing. Delicious!
 Lemon Meyer Mayo
NOTE: Mayo works best in warm temperatures. Winter? No worries. Just fill the bowl you are making the mayo in with hot water and let it stand. Pour the water out, dry the bowl and start whipping up those yolks!
2 egg yolks at room temperature
2 Tbsp fresh lemon juice, or white wine vinegar, or a combination of the two
1 tsp Dijon mustard
¾ tsp sea salt
1/8 tsp sugar
1 ½ cup light olive oil or …. Meyer Lemon Olive Oil
1. Beat the yolks, lemon juice, mustard, salt and sugar.
2. Very slowly add the oil, just a drip at a time, while beating. Once half the oil is gone, go ahead and start letting it stream in, but make sure the stream is very thin and beat, beat, beat the entire time.