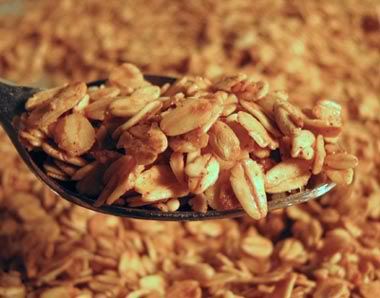 In my quest to eliminate processed foods, the one thing I had difficulty letting go was cereal.
Why is cereal so appealing?
Perhaps it's the simple prep. Open box, pour into bowl, add milk. Maybe it's that crunchy sound in the quiet morning. Or it could be the way the milk coats the little pieces of toasted grains. Or all the various fruits you can add to it –  sliced bananas, peaches, and a wealth of berries to sweeten each bite. Any cereal lover will tell you that cereal isn't just breakfast;  it's the afternoon snack, it's the after dinner snack, it's the after school snack of choice.
When we were little, my Mom had a rule. You couldn't have seconds when it came to cereal. She had to do this because with six kids the entire box wouldn't last a sitting. Except… we always found those loop holes… except if there was extra milk in the bowl. Then of course you could add some more cereal. And then if, oops, you added a bit too much cereal… you would need more milk. Hence, you got your second bowl. Believe me, we took care of that super size box in one sitting.
So, I'm confident that my jams are better than Smuckers, and my peanut butter is better than Skippy's and my canned peaches are better than Del Monte, but how could I beat Rice Chex? I mean the simplicity of it — the way the milk gathers in the little holes… Did I and my au natural ways meet my match? Did I get whupped by a box of rice cereal??
Well, yes… and no. What I found on my favorite food website isn't really cereal. It's granola. But once you try this, you won't ever want to purchase over-priced and over-processed cereal again. Except maybe Rice Chex, and Life, and Corn Flakes… but not as often.
Granola
4 c old fashioned rolled oats
1 stick unsalted melted butter
1/2 cup pure maple syrup, honey, or any combination — I like just pure maple syrup
1/4 tsp salt
1 tsp vanilla
1 1/4 c toasted nuts or seeds – I like to use 3/4 c pecans and 1/2 c almonds, but you can use any combination of nuts and seeds such as pumpkin, sesame, or sunfower seeds.
3/4 c dried assorted fruits — I like a good mix of currants, figs, apricots and banana chips. Banana chips are the best.
1. To toast nuts: Preheat oven to 350. Arrange nuts in one layer on a baking sheet and bake for 10 minutes. Let cool, then chop. Lower oven to 300.
2. Mix together the melted butter, syrup, vanilla, salt. Pour over oats and mix in chopped nuts or any seeds.
3. Spread out on greased baking sheet and bake for 20 minutes, watching carefully and stirring if browning unevenly. Remove from oven. It won't be crunchy yet. As it cools, it gets crispy. When it's cool, mix in chopped dried fruit of choice.
4. Store in a large ziplock bag. Serve with milk, or layered with fresh fruit and yogurt, or over ice cream, or in an apple cobbler sort of dish… you get the point — enjoy it!
Now don't tell my miser husband that I haven't yet figured out whether this is cheaper than buying a box-oh-whatever, but I sure have figured out that it tastes damn good . And the best part is how easy it is to customize. You can have fun with this, trust me.